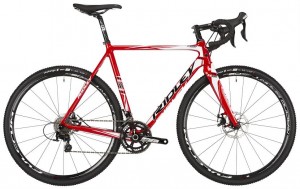 FOR IMMEDIATE RELEASE
RIDLEY NAMED OFFICIAL BIKE SPONSOR OF SHIMANO CANADIAN CYCLOCROSS CHAMPIONSHIPS
Winnipeg, MB October 1, 2015 – The Canadian Cyclocross Championships return to Winnipeg on October 23-25, 2015. Organizers are building on the success of the 2014 edition which saw 35,000 attendees, making it one of the largest cyclocross events in North America. The event includes races for athletes of all levels, from kids and first-time racers to elite professionals. The 2015 event promises to increase the momentum with help from sponsors including Volvo as Presenting Sponsor and Ridley as the Official Bike Partner, with support from MEC, the exclusive retailer of Ridley Bikes in Canada.
Cyclocross requires racers to have a combination of road and mountain biking skills. Racers navigate diverse terrains and at various points on the course encounter obstacles which require them to dismount and carry their bikes, in this case, up muddy hills with heckling fans lining the course.
Cyclocross has strong in Belgium where the sport is massively popular and where Ridley bikes are based. The elite Belgian cycling brand will be onsite at the MEC tent showcasing their newest line-up of cyclocross bikes. Ridley sponsored elite riders Jake Wells and Ally Stacher from the NoTubes Elite Cyclocross team will be on hand to share their experiences of racing on Ridley bikes. Ridley will also be fueling racers during the weekend with branded waffles each morning.
"Cyclocross is a growing and exciting market for MEC. Cyclocross brings together the best in road and mountain biking disciplines and is inclusive of all riders," explains MEC Cycling Product Manager Tim McDermott. "We are proud to support the cyclocross community in Canada as participation numbers in the sport continue to grow."
This year's event schedule includes three full days of racing as well as clinics and numerous social events. The racing kicks off on Friday, October 23 with the Kick Cancer Cyclocross Derby. The Canadian Championship races take place on Saturday, and the international Manitoba Grand Prix of Cyclocross (C2) concludes the weekend of racing on Sunday. Those who are unable to attend in person can tune in to watch the elite races via live stream.
With over 35,000 people on-site at The Forks during the 2014 event, the race ranks among the largest cyclocross events to be held in North America. Organizers expect another big turnout for 2015, with racers coming from across Canada and the USA. In addition to the excitement of crowning a new slate of Canadian Cyclocross Champions, the Manitoba Grand Prix of Cyclocross will feature a much deeper field of international competition.
For a complete list of sponsors and partners, or for more information on the event, please visit the website: winnipegcx2015.ca.